It's been some time since I've checked in with a new blog post. Rather than drop in with another long blathering post, I'm going to take a few moments to just see how everyone is doing.
As the months drag on with this global pandemic, people are starting to fall into new routines, new patterns, new habits. But we're also suffering from more and more isolation (of sorts, and to varying degrees depending on where you live and how seriously you're taking this).
That leads me to want to know: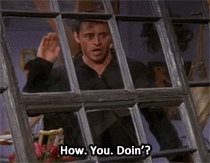 Are you holding up okay? Have you been talking to friends, family and loved ones regularly? Are you taking care of yourself both physically and mentally?
That's all I wanted to say today. Hopefully you're doing alright and you'll take the time to check in with the people you care about. Be kind. Be positive. Be the Light.